TAG CXO team members provide leadership across a wide range of IT functions. We begin our work with clients by doing a variety of assessments, and then follow that with either project-based work, or fractional leadership retainers.
Fractional and Interim CIOs
One of our experienced on-demand CIOs will help you to improve operations and build value by optimizing your use of information technology.
360-degree situation assessment of your business objectives, operations, team, processes, and systems
Strategic planning
Multi-year IT strategy/roadmap
Establishing steering functions
Team building, including hiring, mentoring, and coaching
Project portfolio oversight
Vendor relationship management
Developing and managing to budgets
Fractional PMOs will assess, setup and optimize your project portfolio management function. Out ream brings best practices from wide-ranging industries, delivering relevant, timely insights and business metrics that support better business decisions.
PMO Maturity Assessments
PMO Systems Review
Organization design and setup
Project governance
Project and Portfolio Management
Business Systems Leadership
With knowledge of today's front and back-office business systems and process management experience, we will define requirements, manage implementation programs, optimize vendor relationships, and manage the key infrastructure that runs your business.
Order to cash
Procure to pay
Project delivery
Subscription
Supply chain / logistics
Inventory management
Manufacturing execution
BI/analytics review
IT Operations keeps your entire IT infrastructure running smoothly to support the business. Our operations executives know how to lead teams who focus on proactive support, managing your infrastructure to reduce risks of outages, data loss, and security breaches while adhering to regulatory compliance mandates. Our operations approach supports your technology strategy while optimizing systems, processes, and people to minimize risk and costs.
IT infrastructure assessments
Datacenter assessment VoIP assessment
Fractional or interim IT infrastructure director
IT controls (ITIL, COBIT, ISO)
Proactive monitoring and management
Vendor oversight
Business Intelligence & Analytics
Get a comprehensive view of your organization's data to drive change, reduce inefficiencies, and adapt quickly to economic or market shifts and changes. Business intelligence (BI) combines business analytics, data mining, performance benchmarks and more to help you and your team make smarter, data-driven decisions.
Identify opportunities to boost profits
Evaluate customer behavior
Track performance
Recognize market trends
Analyze competition
Predict success
Proactively resolve issues or problems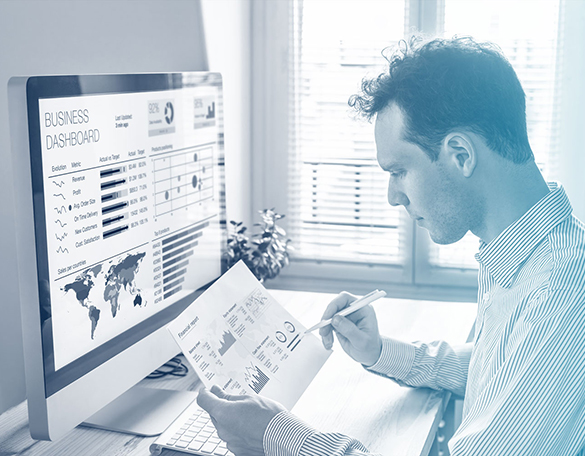 Application Development Services
New platforms, low-code/no-code platforms & modern testing tools have all changed the game in the application development area. Our seasoned development team leaders/executives bring the most up-to-date expertise allowing you to accelerate time to value, reduce risk, and optimize ROI.
Development team assessment
Development methodology assessment
Application lifecycle management
Development and test tools assessment
Fractional and interim Director of Application Development
Organization design and setup
Process oversight
Program management and reporting
QA & test
Release planning
Training and adoption programs
TAG can see the world very clearly. And looking at the unique nature of our business, they not only painted a picture of what can be, but began implementing steps to navigate the changes required to build a very robust and powerful IT program.
I really appreciated how refreshing it was to get very candid feedback, and timely feedback, in a very unvarnished, direct, but kind and honest way – that was extremely valuable to us. It helped us to make the decisions that we needed to make.
Paul, and his team at TAG CXO, helped Buesing identify the right set of IT strategies that align with our key business objectives, then went to work making practical improvements to our core systems, our infrastructure, our internal IT group, and our vendors.
With Fractional CIO services and enterprise-level expertise, TAG helped us to successfully overcome a huge lack of support from software developers and vendors.
Paul's IT expertise is second to none, but what really sets him apart is his strategic approach. He took the time to meet with multiple members of our team to gain a clear understanding of our needs. Only then did he present a concise report of his findings and a comprehensive plan tailored to our specific requirements.
Let's start a conversation
Give us a call at (602) 962-6200 or send us a message below to arrange for a consultation.
Copyright © by Theisen Advisory
Group. All rights reserved.